The "Move Your Money" initiative teaches people how to move their checking, savings, and credit cards out of banks that finance fossil fuels and related infrastructure (pipelines, tar sands, oil trains, etc.). Inspired by the campaign to #DefundDAPL, thousands of people have pledged to remove millions of dollars from polluting mega-banks — more than$4,409,665,000 as of December 17, 2017.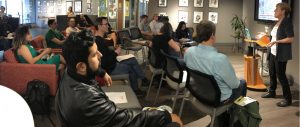 Fossil Free California launched its Move Your Money initiative in May, 2017 with an evening workshop in Oakland.  Five speakers shared personal divestment stories and outlined best practices for moving a checking or savings account to a credit union or socially responsible bank.  Even credit cards and reward cards can be moved.
A growing number of websites support Move Your Money, providing step-by-step instructions and a place to record the amount of money you're moving.  Two of the best sites are:
DefundDAPL (defunddapl.org). From the DefundDAPL website: "Our Financial system is outdated. At its heart lies a blind devotion to short-term profit at all costs. If we are to turn the tides on Climate Change and Social Inequality we must change our money system. We can start this transformation by moving all our money out of institutions funding projects like DAPL. This is the start of a movement, will you join us till every last dollar is in service of the People and the Planet?"
MazaskaTalks (mazaskatalks.org). From the MazaskaTalks website: "Communities, tribes, and cities are divesting billions from the Dakota Access Pipeline. The fight is not over. These same banks are backing the new expansion of the DAPL system into the Bayou Bridge pipeline, as well as FOUR proposed tar sands pipelines that together would add over three million barrels of the dirtiest oil in the world to flow across turtle island every single day."
Fossil Free California plans a series of Move Your Money events in several parts of California. The goals of these events are:
Educate people about how their money is currently being invested

Share alternative savings and investment opportunities, and activate people to move their money from banks to socially responsible financial institutions

Make a clear connection between moving your money and climate action, thus empowering people to work against climate change

Provide a 

list of resources

and summary of action steps

Have a tracker/action planner that helps people map their personal finances

Suggest email check-ins, social media hashtags, other ways to track divestment

Quantify divestment success, use that information to share with politicians, institutions, and other influencers to push for larger financial divestments.

Create replicable, scalable divestment event strategies and materials for other 350 groups, which we will share through 350Cali and the Community Divestment Network
Once we have piloted a few more (3-5) Move Your Money events we will have tested and refined PowerPoint presentations, resource list, worksheets, and data points for personal divestment best practices. The next step is packaging this information to share with any other groups that want to run similar events.