Make fossil fuels a thing of the past in California
We're part of the global movement to reduce investments in fossil fuels
No new investments in coal, oil, or gas  •  Divest from all fossil fuels by 2020  •  Make California fossil free!
You can make a difference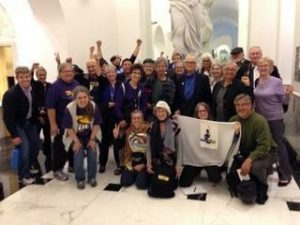 After a number of delays, and following well behind the wake of New York City's recent divestment announcement, the San Francisco Employees Retirement System (SFERS) will take up the question of fossil fuel divestment on January 24. As the posted notice says: "The Retirement Board will conduct a special meeting to hear the fossil fuel divestment…
Read more
Divest and sue: the wave of the future. The term "divest" — to remove money from fossil fuel producers and banks that finance fossil fuel projects — is often paired with its opposite, "invest". New York City has now brought "sue" as a new partner to the divestment dance floor.
Read more