Make fossil fuels a thing of the past in California
Fossil Free California works to reduce financial support for fossil fuels
and related infrastructure, and promote a just transition to a low-carbon economy.
You can make a difference
Support FFCA's Climate Bill, SB 964!
SB 964, authored by Sen. Ben Allen (D-Santa Monica), is a groundbreaking bill that defines "climate-related financial risk" in law, and requires CalPERS and CalSTRS, the two largest public pension funds in the U.S., to take that risk into account when making investment decisions. It also requires the funds to report on climate risk in their portfolios, to the public and the California legislature.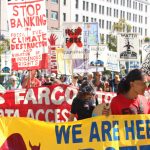 Saturday, April 21 in Belmont: Annual Earth Day Event at Twin Pines Park in Belmont on Saturday, April 21st from 9-noon.  Stop by the Fossil Free California table and say hello. Wednesday, April 25 DIvest San Francisco! 4-6pm, 525 Market St., San Francisco. Join us as we rally in front of…
Read more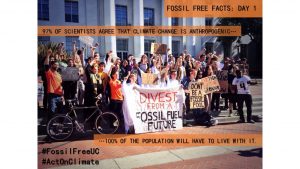 Climate activists celebrated the report from a March 13 investment subcommittee meeting that UC CIO Jagdeep Singh Bachher has again pledged to divest the UC system from fossil fuels. 
Read more