Make fossil fuels a thing of the past in California
We're part of the global movement to reduce investments in fossil fuels
No new investments in coal, oil, or gas  •  Divest from all fossil fuels by 2020  •  Make California fossil free!
You can make a difference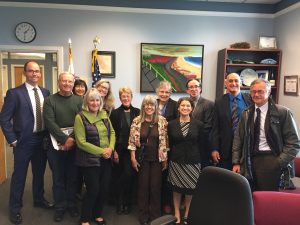 After weeks of negotiations, FFCA's bill (SB 560) defining "financial climate risk", was passed on its second hearing by the CA Senate PER Committee. The bill's authors are now seeking co-sponsors as the bill moves toward the Appropriations Committee.
Read more
For many months, the attorneys general of New York and Massachusetts have been investigating Exxon's decades of deception — misleading shareholders and the public about what the company's own scientists knew about threats posed by climate change. Climate activists have launched a national campaign to urge California Attorney General Xavier Becerra to join them, and…
Read more