Activists Pressure SF for Divestment, Public Bank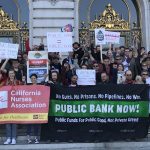 Activists are putting pressure on San Francisco both to divest its pension funds from fossil fuels, and to create a public bank.
On April 11, San Francisco's SFERS pension fund took a few more steps toward divesting from fossil fuels, as promised after the special meeting of January 24, when more than 100 activists publicly called for divestment. On April 25, activists from a cadre of progressive organizations served an eviction notice on the  Bank of America, where San Francisco has a $10 billion banking relationship.
The dual push for divestment and for a public bank reflects the growing popularity of "defund" and "move your money" initiatives that, like divestment, seek to remove financial support for fossil fuels, pipelines, guns, private prisons.
For many years, both SFERS and the City of San Francisco have studied divestment and banking initiatives without making much progress. Although some progressives still feel frustrated at the measured pace of SF's response, this year could see some real advances on both fronts.
On May 31, SF Treasurer Jose Cisneros is convening a Municipal Bank Feasibility Task Force, as recommended by the Board of Supervisors. Former Supervisor John Avalos, a longtime advocate for establishing a public bank, is among the 16 members appointed to the task force, along with Ada Chan, regional planner for the Association of Bay Area Governments; Paulina Gonzalez, executive director of the California Reinvestment Coalition; Kate Hartley, executive director of the Mayor's Office of Housing and Community Development; and Steve Zuckerman, president of the Self-Help Federal Credit Union.
For its part, SFERS has moved about $1 billion into two low-carbon funds: $500 million has been moved from S&P 500 to a low-emissions strategy run by Goldman Sachs Asset Mgmt (GSAM), and $500 million has been moved to Generation Asset Management, a low-carbon fund. Staff has also been authorized to invest up to $500 million in equity funds that do not invest in the Carbon Underground 200 companies.  While these changes affect only a fraction of total SFERS investments in fossil fuels, other moves to lower-carbon or carbon-free funds are anticipated.  SFERS is also hiring a Director of ESG/SRI to oversee more changes that move the fund ever closer to significant "decarbonization" of its investments.  A detailed plan for targeted divestment is scheduled to be presented at the Board's October meeting. 
For more background on SFERS' divestment,
see the thoughtful op ed by Morgan La Manna, a Sustainable Investment consultant with
Just Invest, Inc.
Said La Manna, "SFERS bold plan, if executed quickly and effectively enough, could help serve as a beacon for a global movement of investors who are trying to find their way towards fossil fuel divestment."