May 7: Dump Chase Bank – Day of Action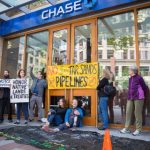 On May 7, activists from Fossil Free California and Indivisible Berkeley will join with Raging Grannies, Occupella and Tax the Rich as part of a national Day of Action Against Chase convened by 350 Seattle.  The informational event (tabling, singing) begins at 4:30 pm in front of the Oaks Theater at the top of Solano Ave., directly across the street from Chase Bank.
The organizers from 350 Seattle said in a recent letter: "For over a year we've been calling on JPMorgan Chase to stop financing new tar sands pipelines. We've held huge protests, made front page news, and delivered a petition signed by 152,000 people. We've even met with the bank's Pacific Northwest management.
Yet now we've learned that since Trump took office, JPMorgan Chase has quadrupled its investments in tar sands and increased its financing of coal by 2,100%—never mind the hurricanes brewing and the wildfires raging.
And it gets worse. Chase is also currently trying to block its own shareholders from introducing and voting on a resolution that would force it to complete a study into its tar sands investments."
May 7th will be a major national day of action targeting JPMorgan Chase. There will be actions in at least a dozen cities across the county, including San Francisco, Berkeley, New York, Dallas and, of course, Seattle. The day of action comes a week before Chase's Annual General Meeting (AGM) and it is the perfect time to make sure that its shareholders hear about its tar sands investments. To make this happen, we're going to need a lot of help.
Here's a link to the Berkeley event on Action Network.  Come sing with us, and learn how to break up with Chase or any other polluting Big Bank.