Grounds for Optimism on CalSTRS Divestment
On February 7, I once again approached the glistening CalSTRS headquarters in West Sacramento to make a public comment at CalSTRS' investment committee meeting. Yet this time, I am more hopeful than ever that it is not a matter of if but when my teacher's pension fund, CalSTRS, will divest from fossil fuels. I haven't always felt this optimistic, but as Bob Dylan so aptly sings–the times they are a-changing.
Let me just give you some background details. For the last four years, I along with other members of Fossil Free California have regularly attended the CalSTRS Investment Committee meetings. We have made public comments that have focused mainly on the financial case for divesting, and the reasons why CalSTRS' preference for engaging with fossil fuel companies will not work. For two consecutive years, we organized successful demonstrations. Over the course of a couple of meetings, we read selections from the hundreds of comments we have received from community college faculty throughout the state urging the Board to divest. We also submitted thousands of petitions from divestment advocates.
Former Vice President Al Gore together with David Blood addressed the board. They demonstrated how "sustainable" investments outperform more traditional ones.
Yet in June 2016, ExxonMobil was still CalSTRS' fourth largest investment, valued at over one billion dollars. The fund's total investments in fossil fuels were worth more than six billion dollars.
Then came the proverbial slap in the face. At last year's CTA/NEA Retired Issues Conference, I attended a session by Jennifer Baker, a California Teachers' Association (CTA) advocate and a former CalSTRS employee. Her presentation warned the retirees in attendance that the divestment movement was all about emotion—we activists had no facts. Naturally, during the Q and A session, I corrected her misconception and wondered why the CTA seemed opposed to divestment while the California Federation of Teachers (CFT) fully endorsed it. A chapter president informed me that it was "political."
So why am I now optimistic that CalSTRS will divest from fossil fuels?
Answers: New York State, New York City, Betty Yee, the World Bank, Norway and Saudi Arabia.
By pledging to "decarbonize" their portfolios, New York has sent a signal to the world that the world's financial capital has begun to sense the impending permanent decline of the fossil fuel industry. In Governor Cuomo's words:
Moving the Common Fund away from fossil fuel investments will protect the retirement savings of New Yorkers.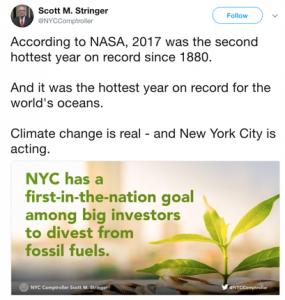 New York State Comptroller Scott Stringer concurs.
I found further reasons for optimism in the words of Betty Yee, California's State Controller, at the Offshore Oil drilling protest in Sacramento on February 8. (Betty Yee also serves on the CalSTRS and CalPERS' Investment Committees.)  She said:
…the fossil fuel era is ending. Here in California we are decommissioning oil platforms not drilling our way back into the boom and bust oil economy of yesteryear…The renewable technology is cleaner, and with each passing day is proving to be more reliable and more affordable.
The World Bank announced in Paris that it "will no longer finance upstream oil and gas" after 2019. Likewise, Norway's $1 trillion sovereign wealth fund said that it wants to sell about $35 billion of shares in oil and gas companies to make the nation "less vulnerable" to a drop in crude prices. And even the world's largest oil exporter, Saudi Arabia, is embarking, under Prince Mohammed bin Salman, on an ambitious effort to diversify its economy and reinvigorate growth, in part by plowing money into renewable energy.
Is CalSTRS getting the message? Perhaps. This last year, CalSTRS quietly reallocated its portfolio and sold off 2 million shares of Exxon-Mobil stock. Surely it is only a matter of time before they follow New York and publicly announce their plan to divest from all fossil fuels.
Yes, the fossil fuel era is ending as the world transitions rapidly towards an energy market dominated by clean energy.  According to former commissioner to the SEC, Bevis Longstreth: …it is entirely plausible, even predictable, that continuing to hold equities in fossil fuel companies will be ruled negligence.
How can I not be optimistic that CalSTRS will soon divest from fossil fuels? The climate and the times, they are a-changing.
Listen to public comments from FFCA's Eric Knapp, Jane Vosburg, Bill Vosburg, and Karen Guma; at minute 22, CalSTRS CIO Chris Ailman explains the drop in Exxon holdings as "going global", diversifying away from US-based companies. [It's noteworthy that, with this move, STRS also reallocated holdings from the domestic energy sector to non-US high-tech (Samsung).]