Feb. 7 in San Leandro: Move Your Money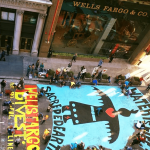 Fossil Free California and Great Old Broads for Wilderness present:
Move Your Money from Megabanks and Fossil Fuels
Wednesday, February 7, 2018
Fireside Room,
All Saints Episcopal Church,
911 Dowling Boulevard,
San Leandro, CA 94577
6:30 PM – 8:00 PM
Your money speaks for you. This timely workshop discusses taking control of your money and moving it out of oil banks and fossil fuels. Co-presenter Maureen Forney from Our Revolution-San Leandro was part of a team that persuaded San Leandro's City Council to resolve to stop doing business with Wells Fargo.  Personal divestment from oil banks is a powerful act that helps align your money with your values.
At the Move Your Money workshop, you will learn how to stop the money flow to the fossil fuel industry and other destructive practices by banks. You will learn how to have a local return on your investments, facilitate a transition to renewable energy, and save the planet.  
Light refreshments will be served.
Many energy companies exploit public lands for coal, oil, and gas development, contributing to climate disturbance with public resources. We strongly believe that public lands can serve as part of the solution to climate change rather than as part of the problem.
Divestment cements our commitment to doing all we can to slow down climate change and sends a strong message to energy companies that we want and clean, renewable energy NOW!"
Fossil Free California is building a movement to minimize the risk of climate change and ensure economic stability for all Californians. We are focused particularly on the risk to those who are retired — or soon will be retired — and who depend on public and private pensions and on their own savings. All of these income sources will be more reliable after fossil fuel holdings are removed from their portfolios.
Great Old Broads for Wilderness is a national grassroots organization, led by elders, that engages and inspires activism to preserve and protect wilderness and wildlands. We recognize that climate change often causes irrevocable damage to biodiversity, wilderness, and wild places.
RSVP to Maureen Forney at mforney7526@gmail.com (Please write RSVP in subject line.)
This event is posted on FFCA's Facebook page: https://www.facebook.com/events/164101687564678/
Sponsored by Our Revolution San Leandro