FFCA at Women's March in Oakland & LA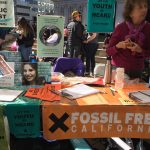 Fossil Free California participated in the Women's March 2018 in Northern and Southern California on Saturday, January 20th.
In Oakland
A great variety of people marched with high spirits into Frank Ogawa/Oscar Grant Plaza on Saturday, after leaving the Women's March Oakland 2018. The Fossil Free California banner, along with flags for Our Children's Trust caught people's attention as they headed toward the table we were sharing on the Plaza. Our two groups worked beautifully together, especially during the very busy times when the surge of people came by in the first couple of hours after the March. We were especially happy to send young people to Our Children's Trust to be photographed in their "I'dRatherBeInCourt" photo—their organization's official Twitter photo for the day.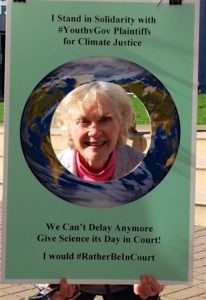 And Our Children's Trust sent us people who wanted to find out about "getting money out of fossil fuels" and signing our new CalPERS/CalSTRS petition. Four FFCA volunteers spent at least an hour each with me, so that during the busiest times, we were able to talk to about 120 people who signed our petition. When things slowed down, we were able to take a few photos to tweet, bearing the #DivestForTheFuture tag. 
In Los Angeles
Carol Kravetz wrItes:
It was a very different Women's March Los Angeles 2018 than last year for me. I led the tabling team in the hinterlands of Grand Park all day. We did get our share of participants as they came off the march. Interesting fact; we were one of the only environmental groups tabling. Makes it even more important to get the word out about the climate crisis to raise awareness. Thanks to the volunteers from Fossil Free California, SoCal350 Climate Action Coalition, and Pasadena Citizens' Climate Lobby, who came throughout the day talking to march participants and gathering signatures for petitions and sign-ups for further volunteering. A long but rewarding day.
Marchers in both Oakland and LA responded with enthusiasm to our message for safeguarding the climate. We're grateful to all who supported us–especially to the volunteers who made the day so successful.