SFERS Finally Takes Up Fossil Fuel Divestment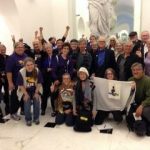 After a number of delays, and following well behind the wake of New York City's recent divestment announcement, the San Francisco Employees Retirement System (SFERS) will take up the question of fossil fuel divestment on January 24.
As the posted notice says: "The Retirement Board will conduct a special meeting to hear the fossil fuel divestment calendar item. The meeting will be held at 1:00 pm on January 24, 2018, at the Retirement System Office: 1145 Market Street, 6thFloor, San Francisco"
This is a special meeting, and this is the only item on the agenda.
In a Facebook post, Fossil Free SF calls out to "Water protectors; climate warriors; earth lovers; tree huggers; and especially SF city workers and retirees who want a stable and healthy pension and future:
COME ONE, COME ALL, to the SF Retirement Board meeting, where they will FINALLY vote on full divestment of community-sickening, climate-destroying, pension-cratering fossil fuels!
We need EVERYONE at the meeting to build maximum pressure on the Board and drive home the message that the public cares about this issue and hasn't given up over their months/years of negligence and delay. If you've been planning to take a couple hours off work to resist sometime, this is a good time to do so. Getting a final vote on our ultimate goal is very exciting, but if it goes down, that's it for full divestment for at least a few years! So we need to rise to the occasion.
***If you CANNOT attend (or just want to send a letter in addition to attending), please send a comment by email to norm.nickens@sfgov.org. Address your comments to the Retirement Board, identify if you are a member of the pension system, and make clear you are in favor of full divestment from fossil fuels!***
We're so close to winning a fossil free San Francisco. It's go time. Let's do this, team!"
News You Can Use
David Page of SEIU Local 1021, who leads SEIU's climate action committee along with Martha Hawthorne, recently spoke with Kris Welch on KPFA about the urgent need for SFERS to divest from fossil fuels.