SB 100 Twitter Storm Reaches Millions
Hundreds of environmental justice and climate activists reached millions of Twitter users during a three-hour Twitter storm on January 8.
Climate action groups working to pass Kevin de León's SB 100, the bill that will get California to 100% clean electricity by 2045 held a twitter storm to all of our state legislators and Governor Brown during the afternoon of January 8, 2018.
Click on the image to see a Twitter "moment" that captures the highlights of the day.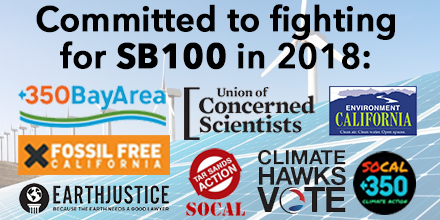 Fossil Free California's Twitter presence (@FossilFreeCA) benefited from the storm: our Tweet impressions were 15.4K, up 126.7%, Profile visits rose 143.2%, Mentions were up 136.8%, and we gained 26 new followers.
Overall, the statistics for the Twitter storm were equally encouraging.  Organized by hashtag, the statistics show:
#SB100 or SB100
#ActOnSB100
#BacktoWorkSB100
#SB100in2018
Thanks to Earth Justice (tweeting as @RightToZero) for major work shepherding the many details of organizing this Twitter storm, and to Rachele Huennekens of RALLY (WeAreRally.com) for the statistics.
And thanks to all of our activist colleagues for participating so enthusiastically and for following through by sharing to their lists.