A New Divestment Year in California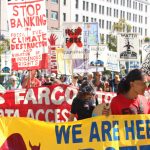 2018 is here, and it's a bright new divestment year in California.
As you consider charitable donations for this new year, we hope you'll consider a tax-deductible contribution to FFCA. Best of all would be a recurring donation that allows us to budget support for our growing list of 2018 projects:
Divestment from fossil fuels and entities that support fossil fuel transport
As our friends at 350.org remind us, FFCA is the only organization in California focusing on fossil fuel divestment by CalPERS (the California Public Employees' Retirement System) and CalSTRS (the California State Teachers' Retirement System)—the nation's two largest public pension funds.

In 2018 we will continue to build relationships with PERS and STRS board members, provide information and training to volunteers…and expand the conversation to divestment from fossil fuel transport and infrastructure.

We've been working with a dedicated team of UC Berkeley economics students analyzing CalPERS' holdings in the Carbon Underground 200, and evaluating the risk these investments pose to the fund and its beneficiaries. In 2018 the students will complete their report and present it to board members.

We're also supporting county fund divestment efforts, such as the long-running battle for divestment by the San Francisco Employees' Retirement System (SFERS).

And, FFCA's presentations and events on individual portfolio divestment (from fossil fuel companies, banks that finance pipelines, etc.) and "Move Your Money: Divestment for the Rest of Us" are gaining traction statewide. Inspired by NoDAPL initiatives, a recent Move Your Money presentation resulted in a transfer of a substantial amount of money from a megabank to a local credit union.
Legislation
In January State Senator Ben Allen will bring back SB 560, which FFCA sponsored last year. The bill defines climate-related financial risk in law and requires annual reporting from CalPERS and CalSTRS. Like SB 185, the coal divestment bill we helped pass in 2015, SB 560 sets a national precedent for climate legislation.

We'll continue to mobilize our supporters to advocate for other important California climate legislation, which will help our state get to zero emissions– starting with SB 100, requiring 100 percent clean electricity by 2045.

With our allies at SoCal350, we've developed an effective (and fun) legislative action training, which we presented in Glendale last weekend. We're ready to take it on the road!
Litigation
In the face of extreme weather events and mounting climate-related losses, California municipalities are stepping up to sue fossil fuel companies for climate related damages and mitigation. Fossil Free California is developing a new initiative for 2018, encouraging more communities to initiate lawsuits.

With allies from around the country, we're putting pressure on California Attorney General Xavier Becerra to join New York and Massachusetts' investigation of ExxonMobil's climate deception over the decades.
Thinking big
With allies, we intend to co-sponsor a side event on fiduciary duty, litigation risk, and divestment at the Global Climate Action Summit in September 2018 in San Francisco.

And we're considering adding 501(c)(4) designation to our (c)(3), so that we can be more effective in our legislative work and support candidates for office who endorse a strong climate agenda.
To accomplish our ambitious agenda for 2018 we need more volunteers and more resources to support those volunteers. In the time of Trump, opportunities for climate action at the local and state levels abound, and it's hard to turn down a good idea for lack of resources.
So we're asking. Please donate on our Act Blue page, or (better yet) send a check to:
Fossil Free California
PO Box 21022
Oakland, CA 94620
And enjoy the holidays, while we send thoughts and prayers to our friends and neighbors in the wine country and Southern California, suffering greatly from the effects of climate change.
Thanks, in advance, for your help. You'll be hearing from us in January!