San Leandro Moves to Divest from Wells Fargo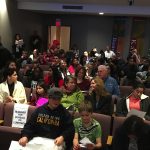 On November 20 the City Council of San Leandro took steps to divest from Wells Fargo by voting unanimously to move a $700,000 bond out of Wells Fargo Bank when it comes up for renewal. As soon as staff vacancies in the finance department have been filled, the Council further resolved to begin the process of seeking a new banking partner for its $5 million city banking business.
The City Council's two actions cap a months-long review of San Leandro's banking relationship with Wells Fargo, in response to its financing of the Dakota Access Pipeline and other issues such as the creation of fraudulent accounts. Councilmember Benny Lee, who made the motion to begin the investigation, voiced concern for the rights of Native Americans potentially affected by the Dakota Access Pipeline. "We didn't feel it was right for our federal government to step on people," said Lee. "Let's look at it from a corporate responsibility perspective."
For the November vote, the citizens' group Our Revolution San Leandro and its allies urged the Council to:
Sever all financial relationships with Wells Fargo, its subsidiaries, and affiliates
Establish a financial relationship with an institution(s) that actively support the goals of the

Paris Climate Agreement

by banking in the energy transition economy.
San Leandro Mayor Pauline Russo Cutter, who led the city to join the Mayors' Climate Pact and support the tenets of the Paris Climate Agreement, said the city would begin the process of a new Request for Proposal for its banking business once staff vacancies in its finance department have been filled.  "Eventually we're trying to get away from Wells Fargo," she said.
During the due diligence phase, Finance Director David Baum received a letter from Wells Fargo stating that it was only one of 17 banks financing the Dakota Access Pipeline, and citing the bank's support for the Equator Principles. The letter asserts, "As a signatory of the Equator Principles, Wells Fargo provides loans and advisory services only to those projects whose borrowers can demonstrate their ability and willingness to comply with the Equator Principles' requirements for categorizing, assessing, and managing environmental and social risks. The Dakota Access Pipeline qualifies on all fronts, and I have attached more information on our continuing efforts to meet our customer's needs while being respectful to the concerns being expressed by Tribal entities."  The 92 banks that subscribe to the Equator Principles have recently been the target of activists calling for divestment from fossil fuels and pipelines.