Activists Protest Megabanks' Fossil Fuels Investments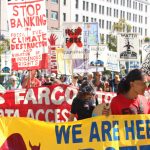 On October 23, activists mounted the largest-ever protest of megabanks' investments in fossil fuels, with #DivestTheGlobe actions in more than 60 cities, 10 countries and 4 continents. Led by indigenous rights groups, activists marched on their local megabanks to demand an end to funding for fossil fuel projects.  The Divest the Globe protest was timed to coincide with a meeting in Sao Paulo, Brazil of banks that subscribe to the Equator Principles.
The Equator Principles, formulated in 2010, are environmental and social risk management policies regarding the climate and Indigenous People's rights to Free, Prior, and Informed Consent (FPIC) to allow or disallow projects on their lands. 
The 91 banks that have signed on to the Equator Principles include Dakota Access Pipeline (DAPL) financiers such as Wells Fargo, Bank of America, J.P. Morgan Chase, and more.
At the October 25-26 meeting, representatives from 60 financial institutions agreed to update the principles to consider key issues of scope of applicability, human rights (inclusive of the rights of Indigenous Peoples), and climate change.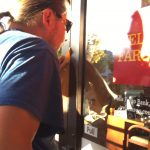 Local actions in Oakland and in Palo Alto featured prayers led by indigenous elders, teach-ins on divestment from megabanks and public banking initiatives, and walks to nearby "banks of shame."   In Oakland, activists entered banks and started the divestment process on the spot, handing over a letter stating the reasons for terminating their banking relationship. Since both the Palo Alto action and the Oakland event were held at their respective city halls, megabanks were within easy walking distance. Some banks promptly closed their doors; others permitted activists to enter but kept them under close watch.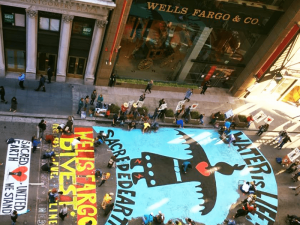 The October 23 action was followed by the "Thunderbird Woman Rising" protest on Monday, November 6 at Wells Fargo headquarters in San Francisco.  Over the course of two hours, activists took over the street and painted a huge image of Thunderbird Woman Rising on the pavement, accompanied by slogans and messages.
Since Standing Rock, banks have lost billions of dollars due to their investments in fossil fuels. Although some banks have begun to pull back funding from tar sands and other fossil fuels projects, many private banks continue to fund tar sands extraction and pipelines. A recent report from Rainforest Action Network finds that funding for "tar sands producers and pipeline companies so far in 2017 is already at levels 50% greater than all of the financing committed in 2016."
For more information on bank divestments and guides on how to divest personal or city funds, visit mazaskatalks.org.