NoDAPL Success: Davis Moves its Banking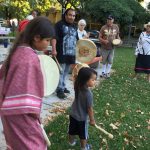 Davis, California has resolved to move its $124 million banking business from Wells Fargo Bank to River City Bank, a community-oriented bank serving the greater Sacramento area. Davis took this significant step to re-negotiate its banking services after many months of lobbying by NoDAPL activists. Following through on its February resolution to divest from Wells Fargo, on July 18 Davis authorized its City Manager and City Treasurer to negotiate and sign a banking services agreement with River City Bank.
The Davis divestment was in response to testimony before the Council by members of the public and the Standing Rock Divestment Action Group.  On June 25 at the "We Are All Standing Rock" event in Central Park, more than 40 activists publicly thanked the Council for its February action in support of water protectors. Thanks to Antonia Tsobanoudis for the video.

The June 25 gathering included a sizable contingent of Native Americans and activists, and featured a potluck meal, prayers, songs, and a circle dance. Said Stuart Pettygrove from UC Davis and the Davis Standing Rock Divestment Action Group, "the drumming/singing and the circle dance were such a wonderful gift to the group."  Emceed by Cecilia Chavez, the event included speakers Francisco Gomez, Carole Standing Elk, and Lupita Torres, Sandy Emerson of Fossil Free California, and Kevin Hoarng, Evan and Sarah from Fossil Free U.C. Davis, which is calling on the University of California to divest its $2.2 billion endowment from fossil fuel investments.
Last year the Davis city council stated its unanimous support for the Standing Rock Sioux, who are defending their water against the Dakota Access Pipeline.  The Standing Rock Sioux recently scored a legal victory when a federal court ruled that Trump's hastily-issued permits for the pipeline violated tribal rights and did not "adequately consider the impacts of an oil spill on fishing rights, hunting rights, or environmental justice."