August 9: Ask SF Retirement Board to Divest from Fossil Fuels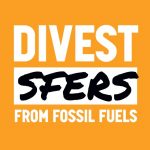 It's confirmed! On August 9, after four long years the SF Retirement Board (SFERS) will vote up or down on full divestment of all $475 million of its fossil fuels holdings.
Can you join us at the board meeting? We need to fill the chamber with divestment advocates!
SFERS Divestment vote: August 9, 2:30 pm, 1145 Market St., 6th floor. It's a big white building with gold trim, across from Civic Center BART.
Click here to send a letter to the Board asking for full divestment.
Some background…
In April 2013, the San Francisco Board of Supervisors voted in support of fossil fuels divestment by  the San Francisco Employees Retirement System (SFERS). Almost two years later the SFERS board voted to engage with fossil fuel companies, prompted by a resolution from the environment committee of Local 1021 of the powerful SEIU union.
Now two more years later, on August 9, the issue of fossil fuel divestment will finally be decided by a simple up-or-down vote on a resolution put forward on May 17 by Board member Victor Makras.  Commissioner Makras has called for full divestment from all $475 million of SFERS' fossil fuel holdings! He cited data on SFERS' losses from fossil fuel investments — a 3-to-1 loser-to-winner ratio. He made clear these investments are doing nothing good for the pension fund and are instead dragging it down. He and Supervisor Malia Cohen (a past President of the Retirement Board) agreed that it was ridiculous they had been moving so slowly on this and should just take an up-or-down vote.
What You Can Do
Show up at 2:30 pm in support. There will be an opportunity to make a public comment if you wish. Jed Holtzman of Fossil Free SF says "We will need to work hard to get the votes we need, and we need a massive showing at the meeting to drive home the message that the public cares about this issue and hasn't given up. Please block out 2:30-5 pm that day. We will keep you posted with developments about this date."
If you can't attend the meeting, send a letter of support for divestment to the Board Clerk at norm.nickens@sfgov.org . Address your comment to the Retirement Board, and demand full divestment from fossil fuels!
We need EVERYONE to roll out, especially city employees!  Great work by Fossil Free SF, 350 SF, the SF Defund DAPL Coalition, activists at SEIU 1021, and others has brought us to this do-or-die decision point.  Add your voice!