Move Your Money: How to Break Up with Your Bank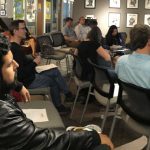 Fossil Free California's recent "Move Your Money" seminar drew a good crowd of people looking to break up with their big banks and move their checking, savings, and credit cards to a socially responsible bank or credit union.  Over the last year, "DefundDAPL" and related projects have inspired people to move more than $81 million out of banks that finance the Dakota Access Pipeline and other dirty projects, with more joining the movement every day.
Edie Irons from TransForm, a statewide transportation equity advocacy group, and David Elliston from 350 Silicon Valley told their personal stories of moving their checking, savings, and credit cards in order to better align their personal money with their values. Annie McShiras represented Self-Help Federal Credit Union, a community development credit union that has 80,000 members, and Maritessa Bravo Ares represented Beneficial State Foundation, which owns the socially responsible Beneficial State Bank, a B Corp certified social enterprise headquartered in Oakland. Nicole Ghio from the Sierra Club contributed to the discussion with some words about the Sierra Club's Fossil Free Finance campaign, and the story of how the Sierra Club is in the process of changing its own banking relationships.
In addition to the personal stories and the histories of these socially aware financial institutions, participants were given practical information about the steps needed to transition from their familiar bank to a new bank or credit union.  As a guy who plays points roulette with no fewer than 9 credit and loyalty cards, David Elliston had great tips for how to change your credit cards.
Rosana Francescato from MyDomino, a concierge service that helps individuals and households attain their clean energy goals,  sees divestment as an important tool for getting to 100% clean energy,.As the MyDomino slogan says: "Ditch dirty power. Switch to clean."  Divesting from banks and credit cards is a necessary adjunct to divesting dirty fossil fuels from your personal portfolio and (if possible) from your retirement plan.  Rosana chronicled our Move Your Money event and assembled an expanded list of resources for a recent article in the MyDomino blog, "50 Ways to Leave Your Mega-Bank: A Comprehensive Guide."