Divestment, Financial Climate Risk Reporting On Trial in Sacramento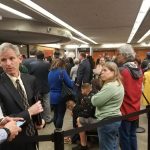 Divestment and financial climate risk reporting are on trial this week (April 17-24) in Sacramento. Fossil Free California is facing interesting times as the California state pension funds set their course ever more firmly against divestment and in favor of shareholder engagement. On Monday April 17, the CalPERS Investment Committee votes on their revised Investment Policy, which includes language that stipulates engagement over divestment. As our partner RL Miller from Climate Hawks Vote puts it: "Shareholder engagement…does not work against companies whose business model is planetary destruction."
On Wednesday, April 19, at their regular board meeting, CalPERS will vote their position on SB 560, Fossil Free California's bill defining "financial climate risk" in statute and requiring PERS and STRS to report on the climate risk in their portfolios and the results of their vaunted shareholder engagement efforts. While we continue to negotiate acceptable amendments with the funds, our immediate goal is survival of the bill. SB 560's first committee hearing is at the Senate Public Employment and Retirement Committee on April 24, 2pm.
How can you help?
Join us at CalPERS in Sacramento on Monday April 17 and/or Wednesday the 19th! We won't be rallying outside this time, but we will be attending the meetings and speaking if we feel moved to do so.
Attend the CalPERS board meeting on April 19 and urge "no position" on SB 560, so that the bill stays alive. This is landmark legislation: passage of the bill will create a precedent and model for other states and public pension funds, and further assure California's leadership on climate.
Senator Pan (D-Sacramento) is chair of the Senate committee that will hear SB 560 on April 24. If you live in Senator Pan's district(Sacramento to Elk Grove), please call his office at (916) 651-4006 and urge his support for SB 560.
The two other Democrats on the committee,Portantino, SD 25 ; and Leyva, SD 20 (Chino), also need to hear from us. If you are in their districts, please call in support of SB 560.