Seattle Divests $3 Billion from Wells Fargo over DAPL Financing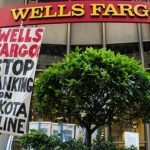 On the heels of Trump's greenlighting of pipeline projects, the Seattle City Council voted unanimously to divest $3 billion from Wells Fargo over its financing of the Dakota Access Pipeline (DAPL).  Seattle is the first major city to cut financial ties with Wells Fargo over the pipeline issue.
City Councilwoman Kshama Sawant introduced the legislation in response to indigenous water protectors' demands that individuals, cities and Native American nations cut ties with Wells Fargo and the other banks that are investing in the pipeline.
The new ordinance not only terminates Seattle's contract with Wells Fargo, but also requires that social-justice principles be considered when granting all city contracts, including construction projects.
The contract termination is one of the largest consumer blowbacks that Wells Fargo has ever experienced.  Seattle's $3 billion operating account with Wells Fargo includes a biweekly payroll of $30 million for roughly 12,000 employees.
"People might argue that Seattle's $3 billion account is just a blip on the radar for Wells Fargo, but this movement is poised to scale up," said Hugh MacMillan, a senior researcher at the environmental nonprofit Food & Water Watch. "I think you'll see more cities following Seattle's lead."
The #DefundDAPL movement started with individuals withdrawing funds or closing accounts from banks supporting DAPL. To date, this grassroots tactic has taken more than $60 million out of DAPL-financing banks. As divestment spreads to municipalities, tribes and universities, the amount of money on the line becomes more significant.