CalSTRS Discusses Materiality of ESG Risk Factors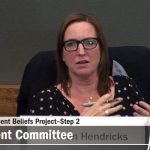 CalSTRS Investment Subcommittee is discussing the materiality of ESG risk factors – whether, and at what threshold, environmental, social, and governance factors materially affect the economic and financial value of an investment.
Material risks must be taken into account when making investment decisions: companies must disclose material risks, and investors must pay heed to material risks as part of their fiduciary responsibility. "Materiality" in the context of climate risk was considered so significant by the incoming Trump administration that his energy team has already recommended eliminating Obama-era guidelines that cite the materiality of climate risk to project investment decisions.
On January 12th at the CalSTRS Investment Subcommittee's meeting in Glendale, four people represented Fossil Free California and/or SoCal350: Dr. Leah Garland, Rhetta Alexander, Nick Fuller Googins and David Rosenstein.  After sitting through a two and half hour meeting, these wonderful activists delivered their 3-minute public comments.  Leah, Rhetta, Nick, and David made passionate pleas for divestment based on widely accepted projections about the performance of fossil fuel investments and the Board's fiduciary and ethical obligations.  A few Board members were sympathetic to the position taken by the Fossil Free California team, though most did not weigh in on the topic.
The divestment issue and ESG risk factors are still clearly "in play" and our persistent efforts are having an impact. Stay tuned!  The next meeting of the CalSTRS Investment Subcommittee is March 2, 2017.
ESG Industry Standards
The Investment Subcommittee spent considerable time examining and debating ESG Industry Standards and how prescriptive they should be about the 21 Risk Factors directing their investments.  Some discussion centered on whether a directive and clarification from the whole Board of Directors should be sought.
In background material prepared for the subcommittee, Anne Sheehan, CalSTRS Director of Corporate Governance, reviewed the ESG principles and practices of other pension boards, stating:
ESG issues can have either acute or progressive impacts. They can occur over different time frames and at different levels of likelihood. An issue that is near-term and acute will likely be viewed as material, but an issue that is progressive over a long time period may not initially appear material, however, given the potential magnitude of impact, the longer-term issue may well be material. The challenge for the Subcommittee will be recommending policy language that is clear and concise. The definition of materiality needs to be understood by the investment staff, investment managers, and our stakeholders. At the March meeting, staff will present some suggested thresholds and language to define materiality.
Thanks to David Rosenstein for making public comment and for assisting with this post.