$5.2 Trillion Reasons to be Hopeful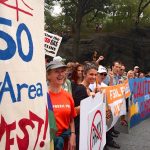 The global divestment movement is now $5.2 trillion strong in pledged assets, with 688 institutions and 58,399 individuals in 76 countries committed to divest from fossil fuel companies. The value of assets under management by those pledged to divest has doubled in the last 15 months.  As the recent report from Arabella Advisors notes, "pension funds and insurance companies now represent the largest sectors committing to divestment". [emphasis added].
So what about California's pension funds? CalPERS and CalSTRS, the largest pension funds in the country, continue to drag their feet on fossil fuels divestment.
Fossil Free California, an all-volunteer watchdog nonprofit affiliated with 350.org and related local groups such as 350BayArea, is committed to holding these huge pension funds accountable.
But we need your help. We're raising funds for a software tool (the Pension Portfolio Analysis Tool or PPAT) that helps reveal when, where, and how CalPERS and CalSTRS invest our money.
If this tool had been available, we wouldn't have been surprised to learn that when CalPERS "divested" from tobacco over a decade ago, they actually retained over 40% of their tobacco holdings, in numerous portfolios excluded from the deal.  And, we could have learned much sooner that CalPERS and CalSTRS are invested in Energy Transfer Partners, the builders of the Dakota Access Pipeline.
Our goal is to raise $10,000 to build the PPAT tool and incorporate carbon footprint information for the funds' largest holdings. We have raised close to $6000 already: with your help this tool could be available early in 2017.
Can you chip in with a generous year-end or New Year donation? 

Fossil Free California is the only organization working on fossil fuel divestment by CalPERS and CalSTRS, the two largest public pension funds in the United States. With nearly $500 billion in combined assets, CalPERS' and CalSTRS' investment decisions have global impact.